On Monday, many American employees will enjoy a day off in honor of Labor Day. The holiday has been observed for over 120 years, a period that has seen dramatic change for workers and employers alike. Some of the biggest changes that come to mind are advances in communication technology: the telephone, fax, computers, e-mail and the internet, social media, mobile phones. It should be no surprise that employee communication has evolved significantly as a result of these advancements. When the holiday was established, employers had two options for communicating with their employees: printed materials and in-person meetings. As new technology has come on line, options have grown, along with the competition for employees' attention. But the evolution of employee communication is not just about sending the same messages with new technology – an effective communication strategy must adapt to changes in how employees access and consume information in their personal lives and in the overall employer-employee relationship.
Let's look at three key ways that employee communication is advancing today:
On Demand, Consumer-Like Experiences. The widespread adoption of mobile devices in the last decade means that people consume more and more information on demand. People now expect the ability to access information wherever they are. And HR leaders are finding that they need to adjust their communication strategy accordingly, by offering information to employees 24/7 across a variety of channels and devices. And they're also realizing that their communications must be highly engaging and short, to cut through the noise of all the other information that employees receive every day.
Relevancy. Today's HR leaders also know that their employee communications must become more relevant to each individual employee. As the internet, marketing technology, and social media have made communication between corporations and consumers much more personalized and direct, consumers have grown to expect communications that address their individual needs. And this expectation is spilling over into their lives as employees: today's employees expect more informal, individualized communications from their employers.
A More Authentic Connection. Finally, employee communications need to adapt their messaging and tone to reflect the changing relationship between employers and employees. The relationship used to be paternalistic, formal, and decidedly hierarchical. And employee communications reflected that relationship, as you can see in this poster from 1916, with its commanding tone and clear distinction between employees and "the management." In recent decades, the hallmarks of that paternalism—like pensions—have faded. Today's employees—especially millennials—expect a different relationship with their employer. They want an authentic connection with the work of the organization, direct access to company management, an opportunity to participate in decision making, and a company culture that treats them as individuals rather than resources. And so, employee communications must be personable, engage the workforce with company programs and processes, and connect employees to the company's mission.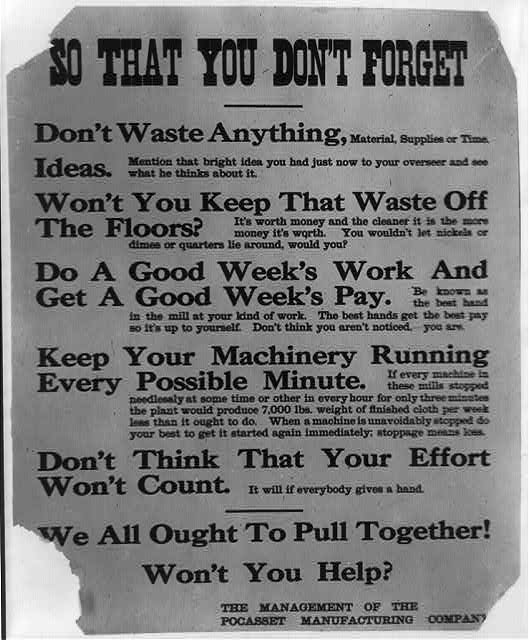 Are your employee communications adapting to these changes? For many, the answer is "not fast enough." This is an opportunity to consider how you can bring your communications forward, to ensure you get the business performance you're looking for. In the meantime, let's all enjoy some well earned time off.